Última visita
4 dias atrás
• Registado
6 anos atrás
• 45,806 hits (815)
Sobre
Yo!
If you want to know some things about me that are anime related, here are some things:
When I was young, I used to always watch Toonami and Kids WB. My favorite shows of the time were
Cardcaptors, Pokemon, Jackie Chan Adventures, Yu-gi-Oh, Tenchi Muyo, Rurouni Kenshin, DragonBall Z, Ronin Warriors, Zoids, Hamtaro, and G Gundam
. When I got older, I started watching Adult Swim and my taste for anime grew a bit further. Surprisingly, the only anime shows I got into on adult swim were
Inuyasha, Samurai Champloo
, and a little bit of
Full Metal Alchemist
. I was also into
Zatch Bell
, as well as the
Teen Titans
. As years went by, I lost my interest on watching cartoons on tv.
My interest in anime was sparked again when I started seeing clips of
Naruto
online. I didn't think of it as cool (i.e., thought a ninja in orange clothing was lame) until I reached episode 114, in which I felt the resurgence of how powerful anime can be.
Throughout my college years, I was still watching
Naruto
, but was slowly getting into
Bleach
, but faded away once I thought the show was becoming too
DBZ
ish. I still watch
Naruto
till this day and have watched other awesome anime shows such as
Attack on Titan, Sword Art Online, One Week Friends, Kill La Kill, Fate/Zero, and No game, No life
.
Post Grad life, I'm just working but I recently got into anime figure collecting
thanks to a couple of people I befriended at anime expo 2014. At first, I thought about just collecting Nendoroids, but some of the figurines posted here really took my interest. So hence, I am here now on a mission to collect the figurines I consider beautiful and amazing :D.
I'll collect a Nendoroid if it's from an anime that I have watched :). As for Scale figurines, it has to be something that looks wonderful (in my eyes of course) :)
Currently, this is my whole toy collection. I collect dunnies as well! I'm not really into the Pop Vinyl series, but the Teen Titans are an exception! Will update every month!
Update 10-13-2015
~ 4 Seasons Project ~
Spring: (Cherry Blossom or Forest theme *Momohime, Sayame, Shiro, Li Syaoran, and Kinomoto Sakura*): 99% complete.
Summer: (Ocean theme *Houmei, Miku Hatsune, Rise Kujikawa, Seena Kanon, Kotori Minami, and Umi Sonada*): 100% complete!!
Autumn: (Autumn leaves theme *Kureha, Xiaoyu, Belldandy w/Holy Bell, Inori Yuzuriha, Kongiku, and Nakahara Tomoe*) : 100% complete!!
Winter: (Heaven's Winter theme *Sakuya, Panis Angelicus*) 40% complete
~ Art of War: Dunny vs Nendoroid Project ~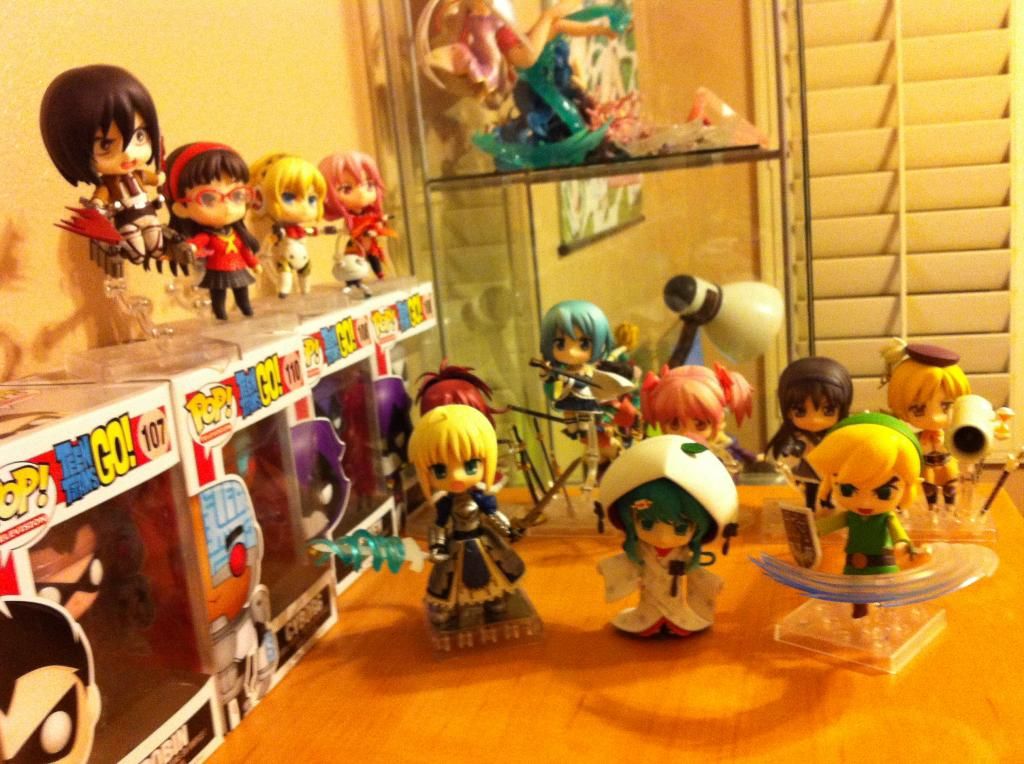 Other than that, I do consider myself a deep person. I also care a lot about the important people in my life, as well as giving back to the community. Anime and video games are dream like stories that taught me valuable life lessons, such as to never give up, believing in oneself, and to have strength. I hope you have enjoyed a little preview about myself. If you wanna know more, then let's chat :)
~Currently focusing on myself.