aweofshe
«broken mirror, a million shades of light»
Última visita
6 meses atrás
• Registado
8 anos atrás
• 37,944 hits (1,047)
Sobre
Sales List + Feedback
Collection sale to make room for new figures. Tons of doujinshi not listed on MFC.


DJ.SOUL-REFRAIN.NET
My complete doujinshi collection (2000+ something books). Probably not adding everything to MFC. :P
_________________________________________
*~ Some of my favorite things ~*

IF DRAKENGARD & NIER FIGURES EXISTED I WOULD BUY THEM ALL

so it's probably a blessing that they don't...
Hello. An avid gamer with a penchant for RPGs, fighters, visual novels, crack pairings and sparkly things. Currently enjoying Dangan Ronpa, DRAMAtical Murder, Diabolik Lovers, Psycho Pass, Steins;Gate, and the Tales series, although my list of beloved series is significantly longer. You can see what I like from my collection & favorites, so I won't say much more.

In the process of selling off most of my doujinshi collection to reclaim space and fund more figure purchases. I've been collecting doujin for 10+ years and would like to reduce the number of books by 50%. It's gotten to the point where I have too many and they sit around in boxes so I can't even read them anymore. :s

Feel free to contact if you have any questions pertaining to sales or whatever. I'm a pretty easy going person in general.
My figure collecting journey:


• 2006 - Wanted Ignis (ITEM #289) but had no money
• 2012 - Pre-ordered Dizzy (ITEM #42026) & Garrus (ITEM #99125)
• 2013 - Bought Ayane (ITEM #420), started collecting gashapon & small prize figures
• 2014 - Pre-ordered Olivia (ITEM #166816) on a whim after being drawn to her beautiful design. Ordered 3 more nendos. Wallet apocalypse begins.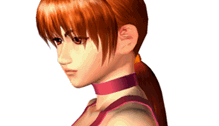 Kasumi

from the

Dead or Alive

series is my favorite video game character. Before buying a PS1, I spent hours playing DOA1 via a demo disc that came bundled with a 1997 issue of Playstation Magazine (anyone remember demo discs? XD). Aside from the nostalgia factor, I love her theme song "ketsui no toki ~pie-02 mix~" and her personality. Determined, serious, and an all-around lovely person unless you fuck with her family...then she will wreck your shit.
Garrus Vakarian

from

Mass Effect

is a close second. There's no Shepard without Vakarian. Wish I had the money to buy his $300 statue. ;-;



_________________________________________
WESTERN FIGURE COLLECTION
Assassins Creed

: Altair by Ubicollectibles, Altair POP, Assassin's Creed: Bloodlines LE PSP



Mass Effect

: Garrus minimate, Garrus PAK, Shepard Bishoujo & PAK, Mordin figure, Garrus & Grunt POPs



South Park

: Grand Wizard Cartman, Princess Kenny, Jew Elf Kyle



Primal Rage

: Diablo, Sauron, Vertigo, & Talon action figures. Relics of my 90s childhood so these have been with me forever. My favorite is Diablo, the God of Evil. >.>






_________________________________________
Random GIFs
hide
www.youtube.com...
Show(s)
JoJo's Bizarre Adventure | Akatsuki no Yona | Seirei no Moribito | Steins;Gate | Space Dandy | World Trigger | Yu Yu Hakusho | Sailor Moon
Jogo(s)
Drakengard | Nier | Final Fantasy | Mass Effect | Dead or Alive | Guilty Gear | BlazBlue | Disgaea | Xenosaga/gears | Tales series | Ar Tonelico | Threads of Fate | Parasite Eve | Valkyrie Profile | otome VNs, etc...
Qualidade(s) MOÉ
purple, green, long hair, boots, gothic, gradients, dynamic poses
Música
video game OSTs - symphonic metal - Finnish metal - rock
Dead or Alive Collection62