stargenerator
Última visita
2 dias atrás
• Registado
2 anos atrás
• 3,196 hits (24,320)
Sobre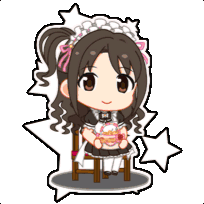 hi!! im amber
18 yr old who loves sweets, cute girls and long haired pretty boys!
i got into figure collecting in 2014, and in 2016 i got serious trying to expand my collection as best as i can !! im putting together a victuuri ita bag and an alphonse elric one as well~
i rlly rlly love idols, monogatari and fullmetal alchemist!
my best girls are uzuki shimamura, takagaki kaede, and airi totoki
drop a friend rq, i love meeting new ppl~
Show(s)
fma, monogatari, idolmaster, panty & stocking
Jogo(s)
huniepop, idolm@ster cinderella girls, nekopara, smash bros
Qualidade(s) MOÉ
twin tails, kemonomimi, pink hair, bratty attitude