stargenerator
Última visita
5 dias atrás
• Registado
1 ano atrás
• 2,290 hits (27,388)
Sobre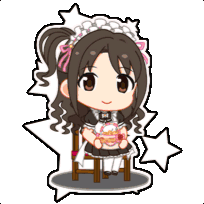 hi!! im amber
a 17 yr old who loves sweets, cute girls and long haired pretty boys!
i got into figure colecting about 2014, and last year i got serious trying to expand my collection as best as i can !! im also putting together a victuuri ita bag
i rlly rlly love idols, monogatari and yuri on ice!
my best girls are uzuki shimamura, takagaki kaede, and airi totoki
drop a friend rq, i love meeting new ppl~
Show(s)
yuri on ice, bakemonogatari, idolmaster, panty & stocking
Jogo(s)
huniepop, idolm@ster cinderella girls: starlight stage
Qualidade(s) MOÉ
twin tails, sharp teeth, kemonomimi, pink hair, gyaru, bratty attitude, long haired pretty boys